See on Scoop.it – HealthyHomesChicago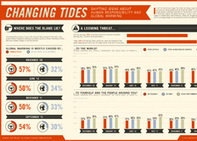 It can't be denied any longer: Sea levels are rising, major droughts are continuing, and record hot summers are being experienced all around the world. Climate change is real and, as residents of Earth, we have a responsibility to our planet to do something about it. A recent study conducted by Yale University and George Mason University finds that, for the first time since the research began in 2008, the majority of Americans believe that global warming is mostly a man-made phenomenon.
As sobering images of catastrophes are making headlines, this graphic looks at how people are recognizing that the effects of their actions aren't just an increasing danger to the world but are a direct threat to the future for themselves and their families.
Jim Gramata's insight:
Decisions have consequences. In some cases irreversible and significant. Changing Tides….great post
See on columnfivemedia.com